During his 12-year NBA career, Baron Davis became known for the power he played the point guard position with. His most famous highlight, which came at the end of a blowout playoff win over the Utah Jazz in 2007, featured him violently dunking over Andrei Kirilenko. Davis absorbed a foul and detonated on the 6-foot-9 Russian.
At 6-foot-3, Davis had a special blend of strength and speed. His ability to finish around the rim is what many remember him for. What fewer people may realize is that for a brief time in New Orleans, Davis was the NBA's most voluminous 3-point shooter. In 2003-04, Davis attempted 8.7 3s per game — the most of anyone in NBA history until that point and a record that would stand until Steph Curry's peak more than a decade later. The 582 3s Davis shot that season are still a New Orleans franchise record.
Until that point, the most 3s Davis had ever attempted was 5.8 per game. His uptick in 2003-04 was the result of two things. That season, the Hornets shifted to a perimeter-oriented attack under first-year coach Tim Floyd. They also had minimal offensive firepower after Jamal Mashburn, the team's leading scorer the previous season, had knee surgery, which limited him to 19 games.
"It was strictly about what we had and trying to play to our strengths," Floyd said. "And that's what I felt like what our strength was at that time: Baron and his talents. When he was physically fit and in shape and healthy, he was arguably the greatest talent that I coached."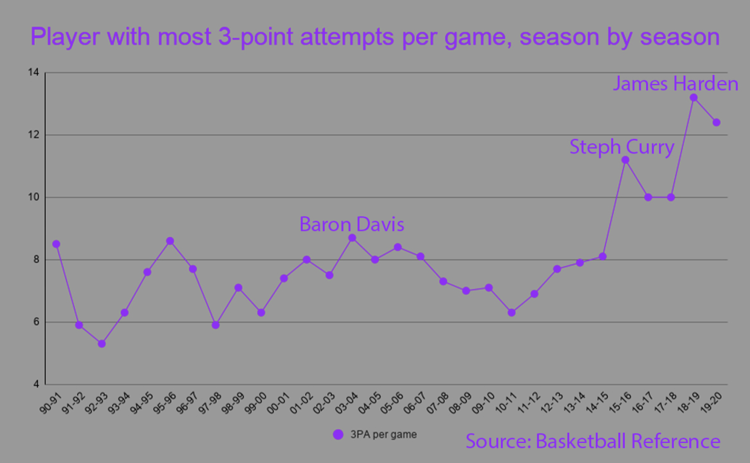 Davis missed 33 games in the 2002-03 campaign because of knee and back problems. The following season, he was determined to report to training camp in shape, especially with a six-year, $84 million contract extension about to kick in. Davis told local reporters he ran two miles a day during the offseason so he would be prepared.
In the summer of 2002, the Hornets fired coach Paul Silas despite going 47-35 and brought in Floyd, who'd had plenty of success in the college ranks, including at UNO, but was fresh off a disastrous four-year run as Phil Jackson's successor with the Bulls. Silas' system emphasized post touches. Floyd wanted to try something different. He installed the Princeton offense and recruited former Tigers assistant Jan van Breda Koff to be his lieutenant.
"It's become synonymous with slow-down basketball, which it was in college," Floyd said. "But it was a back-cutting offense. Primarily perimeter-oriented. It was a system of play that required the ball to be reversed from one side of the floor to the other a majority of the time."
The Hornets began bombing away from 3 in their new system. In 2002-03, they attempted 13.1 3s per game, the ninth-fewest in the NBA. In their first year under Floyd, they attempted 20.3 triples per game, the second-most league-wide. Davis, who'd previously never cracked six 3s per game, began getting up nearly nine per contest. 
"That was the year I wanted to come out and prove myself," Davis said. "One, I think not having Mash(burn), a lot of attention on the offense was on my shoulders and the focus was on me. I had to make sure I was taking care of my teammates and being a threat out there. I think the long ball for me was a way to open things up for drives."
Davis and Mashburn played in only 16 games together that season. Without Mashburn, a skilled 6-foot-8 forward in the lineup, New Orleans relied heavily on Davis to get his own shot and set up teammates. Davis attempted 20.9 shots per game. He also averaged 7.5 assists. Both were first on the team (excluding Mashburn) by a significant margin. 
"I think for me, a lot of times, I would get the ball with 5, 6 seconds left on the shot clock," Davis said. "You have to create."
It was not an especially efficient campaign for Davis. He converted 32.1% of his looks from 3, a middling mark. He attempted 10 or more 3s 29 times that season. In 12 of those games, he shot 25% or worse from behind the arc.  Privately, some of his teammates grumbled that Davis was settling for jumpers when he could've been driving to the rim. Davis remembers it differently.
"They were just stacking the defense and not letting me drive," he said.
Statistically, it was one of the most impressive seasons of Davis' career. He was named an All-Star for the second time in his career. But Davis and many of his teammates did not seem to enjoy playing under Floyd, who'd come to New Orleans after posting a 49-190 record in Chicago.
In 2005, Davis told The New York Times that Floyd "was a guy from college who hadn't won in the league and he still had that college coaching style of a dictatorship."
The Hornets wound up going 41-41. They nabbed the No. 5 seed despite getting next to nothing from the injured Mashburn. In the first round, they bowed out to the Miami Heat in seven games. Shortly afterward, general manager Bob Bass stepped down and Floyd was fired. At the trade deadline in 2005 the Hornets sent Davis to the Warriors, which brought an end to their 5½-year partnership.
In the decade and a half since Davis' and Floyd's season together in New Orleans, 3-point attempts have exploded. In 2015-16, Curry attempted 11.2 3s per game, which broke Davis' record. Three seasons later, James Harden set a record by attempting a staggering 13.2 3s per game. Now, even bench players like Washington's Davis Bertans shoot 3s at a rate comparable to the rate Davis did. 
Floyd is not a fan of how the game has changed.
"Aesthetically, it's not pretty to me at all," Floyd said.
Davis said he likes how it has evolved.
"I think there's a lot of freedom," Davis said. "It's less slowing it down. Everybody has pretty much the same freedom I have. Know what I mean? I think it's fun to watch. Just wishing that I would've had an opportunity to play in this era."