A United States Marine was under investigation Thursday after posting a video peppered with profanity and racial epithets.
Identified as Marine Private First Class Jarrett Morford, the individual in the video is seen wearing a camouflage uniform. Morford talked about China's role in the worldwide coronavirus pandemic and how he would behave if he met a Chinese national.
Warning: the following video contains language which may be disturbing to some readers. Discretion is advised.
"As the honorable [President Donald] Trump said on Twitter today, it was China's fault," Morford said. "China is going to pay for what they have done to this country and the world."
"I don't give a f*ck," Morford continued. "Some [slur against Asian people] motherf*cker comes up to me when I'm in the fleet, say 5-5-6, bitch. That's all I gotta say. Say 5-5-f*cking-6."
The term "5-5-6" used by Morford in the video may be a reference to a form of ammunition used by the Marines in firearms like the M16 rifle.
Newsweek reached out to the Pentagon for comment.
According to a statement published in Stars and Stripes from Marine Corps spokesman Captain Joseph Butterfield, "appropriate action" about the video is being taken by commanders in Morford's unit. Morford's unit has not been identified publicly.
"There is no place for racism in the Marine Corps," Butterfield said. "Those who can't value the contribution of others, regardless of background, are destructive to our culture and do not represent our core values."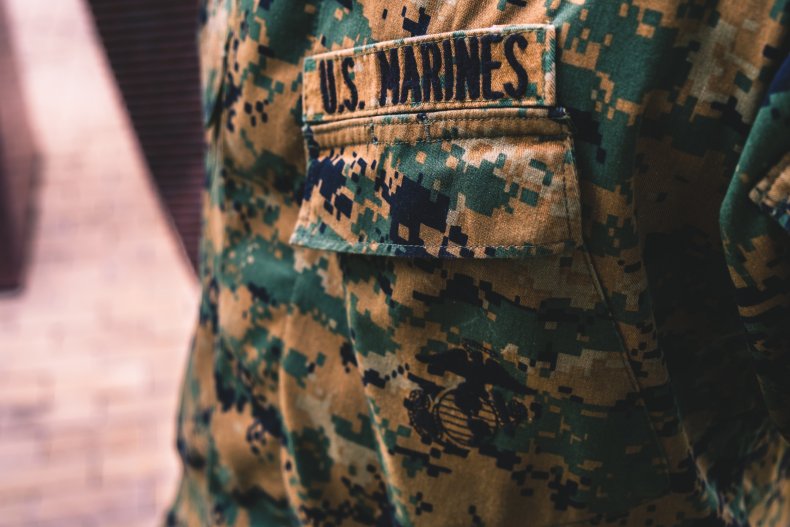 Although Morford quoted a Trump Twitter post in his video, it was unclear which specific tweet Morford was referring to. Trump has often blamed China for the coronavirus pandemic, calling COVID-19 the "China virus."
Trump defended his usage of the term as "accurate" during a White House coronavirus task force briefing in March. "It's not racist at all," Trump told reporters. "Not at all. It comes from China. That's why. I want to be accurate."
After receiving a positive test for coronavirus, Trump was hospitalized for three days at the Walter Reed National Military Medical Center. Upon his return to the White House on Monday, Trump posed for a photo opportunity without wearing a face mask. In a video, Trump said that an experimental therapeutic drug manufactured by pharmaceutical company Regeneron had conquered his symptoms.
In a video posted Wednesday, Trump repeated his claims that China was responsible for the U.S. coronavirus pandemic. "It wasn't your fault this happened," Trump said. "It was China's fault."
"China's going to pay a big price for what they've done to this country," Trump added.
In a Thursday tweet, journalist Hu Xijin of the state-owned Global Times in China said that Trump needed a "new excuse" for his administration's perceived failure to keep COVID-19 under control.
"Mr. Trump, China has had a fantastic National Day holiday," Hu wrote. "The country has no new local COVID-19 case for the entire week-long holiday. Chinese people have almost forgotten the COVID-19. You need to find a new excuse to help you shift blame for failing to contain the pandemic."