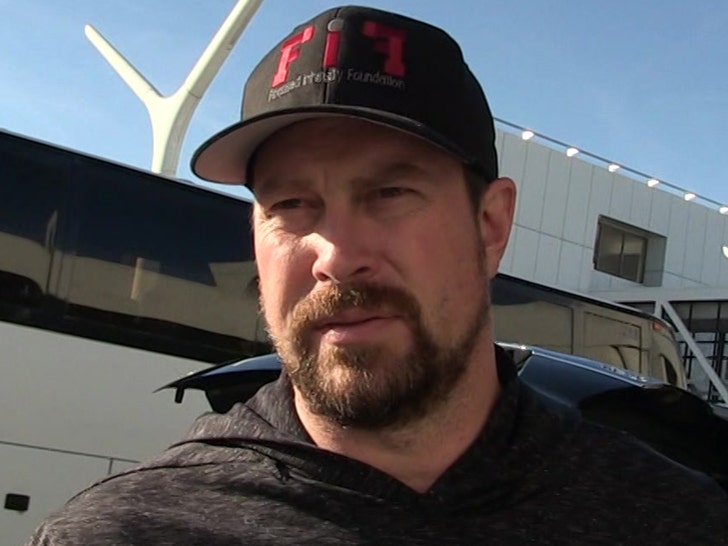 Exclusive
Ryan Leaf's domestic battery arrest was NOT substance abuse-related … so says the ex-NFL QB's attorney, who tells TMZ Sports the former San Diego Charger is still "100% sober."
There had been some concern after 44-year-old Leaf — who has battled drug and alcohol problems in the past — had suffered a relapse that led to his arrest on May 22.
But, when we spoke to David Greenberg of the Law Offices of Soda & Greenberg … he told us that just wasn't the case at all.
"He is 100% totally sober," Greenberg said of Leaf, "and spends a good part of every day over the last five years helping other people remain that way."
In fact, Greenberg says the whole alleged incident was nothing more than a "minor dispute."
"Nobody was injured," Greenberg said. "There was no allegation of any kind of weapon or anything like that."
"This was a couple that had a small minor dispute and it's unfortunate that it ended up in the criminal justice system."
We broke the story … Leaf was booked on a domestic battery charge at around 2 p.m. on May 22 — and was formally hit with two misdemeanor charges by prosecutors this week.
But, Leaf cut a plea deal in court Friday … and ultimately avoided further jail time in the case.
Greenberg said Leaf and his family are happy to have all this now behind them … adding Ryan is still committed to helping people with substance abuse problems daily.
"He's a really good guy," Greenberg said. "He really is a good husband and a good father."